100% emission-free driving today with StreetScooter: Practical, robust and cheap!
BAS Vans is an official worldwide dealer of the StreetScooter brand. The company has been producing fully electric vehicles since 2010. 100% electric, so 100% environmentally friendly and emission-free. The unique and innovative design of this German company is very durable and designed to suit the wishes of the user. Streetscooters have driven 70,000,000 kilometers worldwide in a wide variety of industries including DHL. They have therefore proven to be a quality product. Driving StreetScooter is the smartest way to contribute to a greener world with your company. Regulatory standards for the approval of vehicles in cities have become increasingly tighter. This is no problem for the StreetScooter! With its high maneuverability and ease of use, it is the ideal replacement for a traditional delivery van.
Three models, infinite flexibility
The StreetScooter is available in three different versions: WORK Box, WORK Pickup and Work Pure. Every vehicle has its own qualities and possible usecases. In addition, the WORK Pure can be configured with a unique superstructure that perfectly meets the needs of your company. Among the options are tilting cargo space. Besides this, an insulated loading space can also be mounted in which perishable goods can be transported. All models can be manufactured in your company colors. Ask one of our sellers about the possibilities. They can provide you with customized advice. At BAS Trucks you can order StreetScooters directly from stock or order an unique configuration. We can convert your wishes into the ideal configuration of your StreetScooter. You can see on our website which vehicles are on stock. The delivery time of custom StreetScooter is 1-3 months.
StreetScooter with subsidy
The Dutch government encourages environmentally friendly initiatives such as electric vehicles and electric delivery vans. The Netherlands Enterprise Agency has compiled a so-called 'environmental list'. This contains all vehicles that are eligible for the various tax benefits such as 'MIA' and 'VAMIL'. The StreetScooter is part of this. Thanks to its fully electric powertrain, the vehicle contributes to a better climate; today and tomorrow. When purchasing a StreetScooter in The Netherlands, entrepreneurs enjoy various tax benefits and schemes. However, this might differ in your country. Please contact us to find out what the possibilities are in your region.
The costs of electric driving
Electric cars have much lower operating costs and fewer moving parts. This results in a considerable saving of costs per kilometer. At the same time, the StreetScooter contributes to the sustainable nature of your business. The costs of electricity are much lower than those of gasoline or diesel. Add to this the savings in tax, road tax and maintenance and you understand why a StreetScooter is the best choice for your company and the environment. The tax incentives also contribute to a significant decrease in purchase costs. All costs and tax benefits are included in the calculation example below.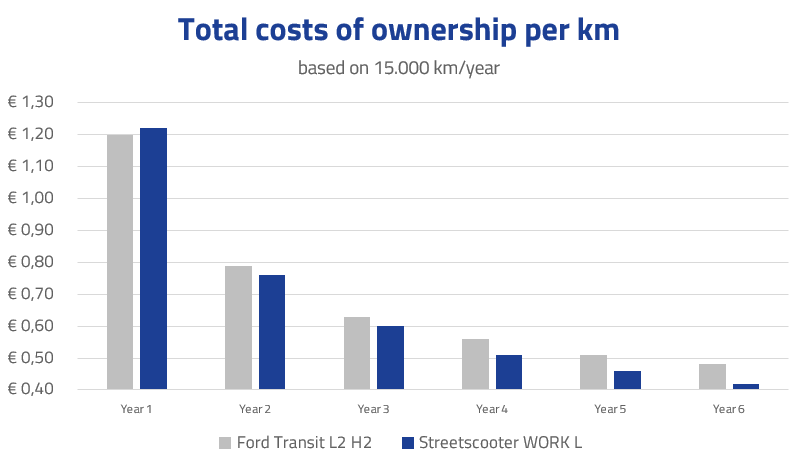 Charging
Charging an electric (delivery) van does not have to be a hassle. That is why all StreetScooters have a type 2 connector. This is a universal plug that is used for almost all electric vehicles in Europe. Charging solutions are therefore widely available. StreetScooter also supplies various charging solutions for their vehicles, suitable for one or more vehicles. It takes approximately 10 hours to charge the battery from 0 to 80%. This is enough to drive 160 kilometers. Charging from 0% to 100% takes 13 hours. In practice, these times are often shorter, because the battery is never completely empty. A night of recharging is enough to set off again the next morning full of energy.
Range
The Streetscooter models are available with two different battery packs: 20kWh and 40kWh. The figure stands for the total battery capacity, expressed in kilowatt hours. With the 40kWh package you can drive 204 kilometers (NEDC). The 20kWh battery lasts 101 kilometers. These values are realistic, but may deviate in practice due to weather conditions, the type of road and the use of accessories such as seat heating. Electric delivery vans have a smaller operating radius compared to traditional delivery vans because the batteries take up a relatively large amount of space. Among consumers there is often the idea that this smaller range is insufficient. Dutch national statistics indicate that an average delivery van drives 85 kilometers per working day. The 20 kWh battery is more than sufficient for this. After a night of charging, the street scooter is fully charged again, ready for any job.